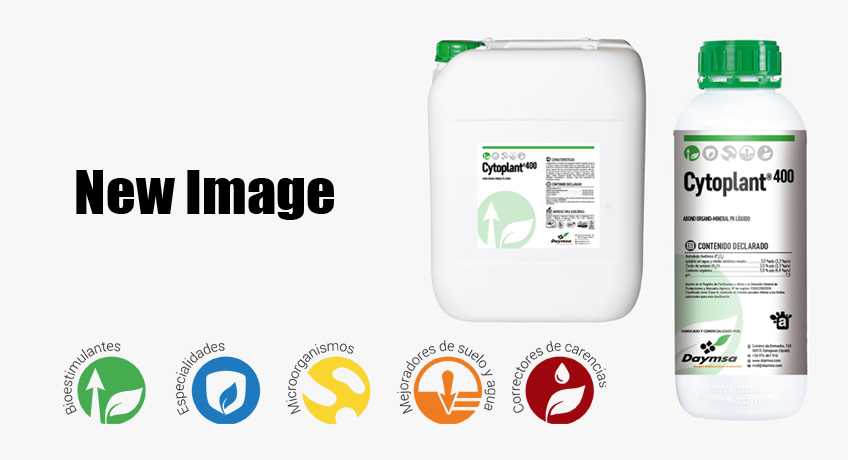 DAYMSA is committed to a more attractive and modern image, visually categorizing its catalog and presenting a new labeling on its products.
 DAYMSA designs a new organization and distribution of its more compact product catalog to gain visibility quickly and to identify which category each products. The new catalog distribution is divided into Biostimulants, Specialties, Microorganisms, Soil and Water Improvers and Deficiency Correctors. Each category will be identified with a graphic, which will accompany the different products for gaining visual identity.
To this new categorization of the product portfolio, DAYMSA presents us with a new modern image on the labeling of its products with the aim of improving the perception of them, giving it a more modern and attractive appearance.
New labeling
DAYMSA is committed to a new labeling on its packaging in order to develop the brand with a more modern aesthetic presenting its products in a more structured and legible way with more detailed information on the characteristics and qualities of the product.
Wrapping label
For liquid formats ≤ 1L and for all solid formats, the containers will have an enveloping label with a larger surface area that will allow creating a more structured and legible design that obtaining commercial and technical information at a glance, thanks to the new distribution in three columns.
In the first column on the left, you will find all the technical content of the product, such as the characteristics of the product, doses or related information such as its use of Organic Agriculture.
In the central column is the commercial information of the product and in the upper part the category to which it belongs within the new DAYMSA catalog. In the last column you will find all the information related to regulations and safety when applying the product.
Double tag
For liquid formats ≥ 5 L, the containers will have a double label that will contain all the information of the product with a modern image. This new image development for the products offered by DAYMSA, allows an optimal reading, improving the aesthetics of liquid products.
On the front label you will find the characteristics of the product in a more modern design, dressed in the color of the category just released in the catalog. At the same time, the back label contains all the technical information of the product related to its application, together with all the regulations and safety information for its correct application.
DAYMSA adapts to new trends where the visual is gaining more and more importance and facilitates the organization and distribution of the catalog of its products for a correct identification.