According to the FAO, in 2021 wheat was the third agricultural product with the highest production worldwide, behind only maize and rice, reaching a volume that rose to 770,877,072 tonnes, 1.84% more than in 2020, where it stood at 756,949,628 tonnes. Nowadays, wheat is a basic product in the agri-food chain, which has become strategic, hence the need for producing countries to maintain production and yields.
In the Top 20 in wheat producing countries, Canada is in 17th position, in a ranking led by Kazakhstan, Iran, Mexico, Syria, China and Russia.
It has been specifically in Canada, where DAYMSA has developed a study to validate the benefits of the use of the biostimulant like Naturamin® WSP in wheat.
Naturamin® WSP is a growth activator in the form of soluble microgranules of high purity and with a high concentration of free amino acids, 80%. It is a biostimulant that is recommended to boost the activity of the crop at times of greater energy demand, helping it to overcome stressful situations (sprouting, drought, pests and diseases, frost, etc.).
Naturamin® WSP is currently internationally certified for use in organic farming.
Study and results of Naturamin® WSP on wheat
During the year 2023, DAYMSA has conducted a study in Ontario (Canada) with the aim of confirming the benefits of Naturamin® WSP on the production of winter wheat (Triticum aestivum/variety 25R61).
In this study, a foliar application was made at the beginning of flowering (BBCH 61), in which yield and specific weight (lbs/bushel) were evaluated.
With a water volume of 200 litres/ha and a dose of 300 grams/ha, a 10% increase in production was observed compared to the control treatment, from 7,013.8 kg/ha to 7,687.7 kg/ha after the application of Naturamin® WSP.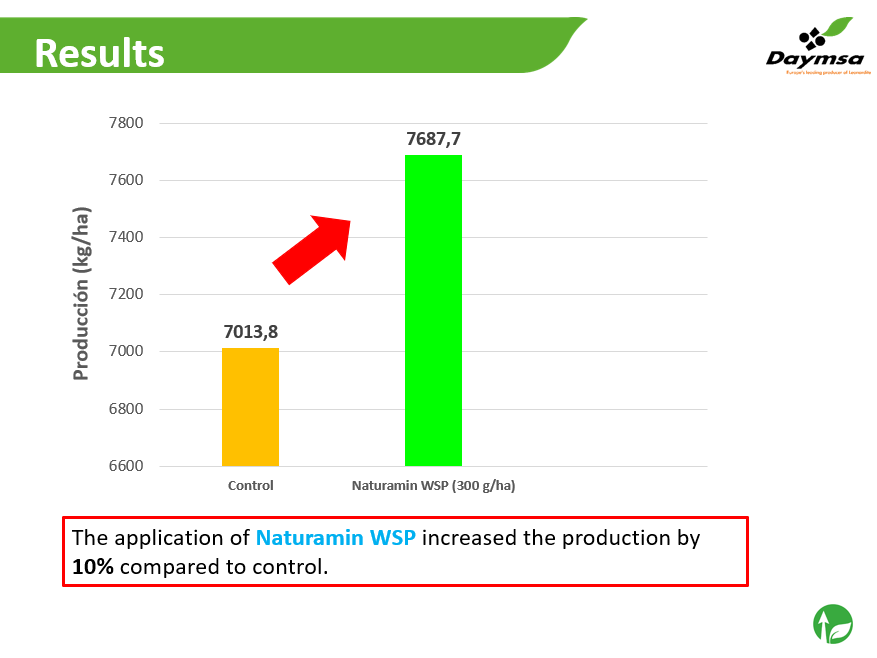 On the other hand, the application of Naturamin® WSP increased the specific weight by 2.7% in relation to the control, raising it from 55.3 lbs/bushel to 56.8 lbs/bushel.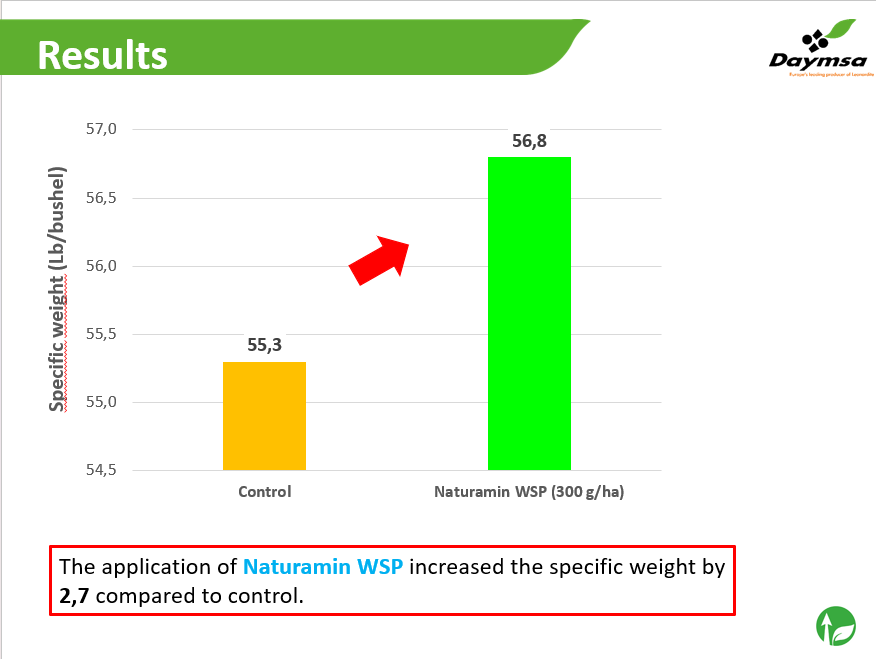 Conclusions
According to the results of the study conducted by DAYMSA in Ontario (Canada) on a winter wheat crop, the foliar application of Naturamin® WSP at the beginning of flowering increases yield (kg/ha) by 10% compared to the untreated control.
In addition, this foliar application has direct benefits on specific weight.