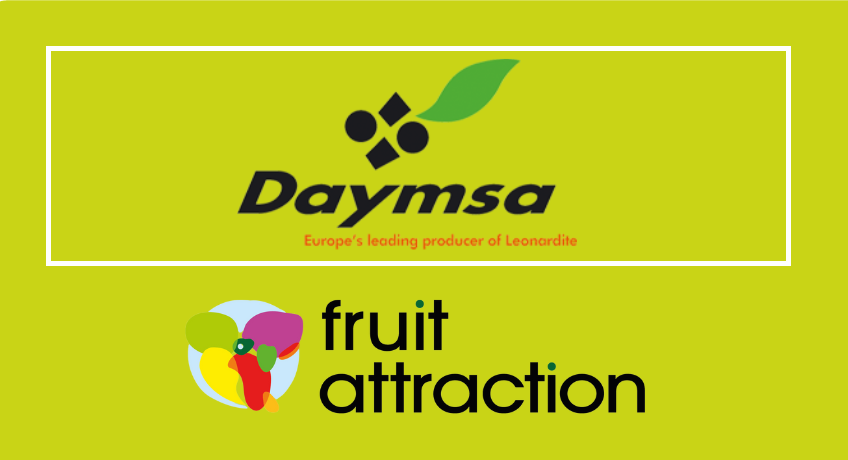 The range of solutions based on microorganisms have been the protagonists in DAYMSA's stand, which confirms the positioning of its biostimulants in an efficient and sustainable agriculture.
The 15th edition of Fruit Attraction has broken all the records registered to date: more than 2,000 exhibiting companies from 56 countries, 64,000 m2 of surface area, and the attendance of more than 90,000 professionals from 135 countries. An essential event for the national and international fruit and vegetable sector in which DAYMSA has had presence, as a key entity with a wide range of biostimulants, deficiency correctors, soil and water improvers, with a clear commitment to organic farming.
During the three days of the celebration, DAYMSA was attended by the sales, marketing and technical team, who had the opportunity to strengthen relationships with customers for present their current strategic lines, all aimed at a more sustainable and efficient agriculture.
For Eitán Martín, Marketing Manager at Daymsa, "it has been a real pleasure to be present at this edition, where we have been able to see a large number of professionals, and in our case, to meet with many producers, distributors and advisors. In conclusion,  we return very excited and aware that we play an essential role in the path towards a more sustainable agriculture".
Featured products
DAYMSA has a wide portfolio of solutions, but in this edition its star products have been its range of products based on microorganisms that come to solve many of the current problems of farmers. "We are talking about products with micro-organisms that make it possible to solubilise blocked nutrients such as phosphorous, provide nitrogen and stimulate the plant", points out Eitán Martín.
In this sense, the range of microorganisms, Enerplus®, Myskiam®, Nuptak® and Viproots® have had a special role in this edition of Fruit Attraction.
– Enerplus®: biofertiliser to solubilise phosphorous, potassium, micronutrients and biostimulation.
– Nuptak®: biofertiliser for nitrogen fixation and biostimulation with a wide range of uses.
– Myskiam®: consortium with mycorrhizae to maximise nutrient and water uptake.
– Viproots®: consortium with Trichoderma to improve soil health.
All of them are certified for use in organic farming.